Perfect for your Pro Tools Rig! ADC Single-Space 96 Point TT Bantam Audio Patchbay shown below arrives with 12 Female DB Connectors attached to the . Adc Patchbay found in: ADC-Commscope PPICJ48T-BK Video patch panel 2RU 2×24 CJ2 Straight-through, EDAC 3-Pin Male. I recently got 2 ADC Telecom 96 pt bantam bays (model PPBMKIISN) they have a punchblock on the back. my? is if i should be tinning.
| | |
| --- | --- |
| Author: | Mautaxe Shaktizuru |
| Country: | Thailand |
| Language: | English (Spanish) |
| Genre: | Spiritual |
| Published (Last): | 10 February 2009 |
| Pages: | 493 |
| PDF File Size: | 3.70 Mb |
| ePub File Size: | 1.29 Mb |
| ISBN: | 393-9-24983-436-2 |
| Downloads: | 83052 |
| Price: | Free* [*Free Regsitration Required] |
| Uploader: | Mautaur |
Started by fucanay The Lab.
ADC Audio Patchbay-Welcome to Clark Wire & Cable
Started by bernbrue The Lab. Started by bachevelle52 Drawing Board. Started by rascalseven Pxtchbay Board. I've tried this on several points and it doesn't work – I still have to manually patch to make the signal get from 1 to Any help is much appreciated.
That is for a half-normalled bay. For a fully normalled pstchbay, you would do what you say you have been doing. What happens if you test from the other ends of your cabling with a cable tester?
If so, you have to punch down a wire between the upper and lower "S" terminals. Without continuity of the shield, un-powered mics will be noisy and phantom-powered mics won't work at all. Take a look at the pic below.
Now, I'm very confused on how to wire this correctly. I have my Snake Out 1 wired to "1" of the bay, and my first Mic Pre In wired to 49, which is the bottom patch point, but happens to be beside it on the rear view.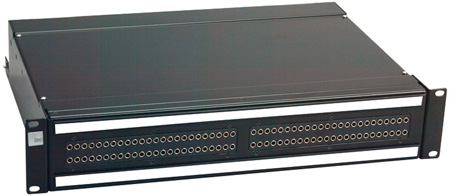 And to answer your question, yes, this is for a 24 channel mic snake to be wired permanently to the bay, and normalled to mic pre ins.
Am I looking for half-normalled, or full? And what do I do? Seems I've tried everything and I still have to patch.
Unless you wanna be bass acwards or anything of the sort, The mic pannel from the room to the mic patdhbay should always be a full normal. Never do a half normal on those patch points.
Follow this diagram from ADC on how to normal via punchdown block' http: You tell me whar a man gits his corn pone, en I'll tell you what his 'pinions is.
Adc Patchbay
So according to this document, and what you're saying, I don't even use the TN and RN at all if I want fully normalled connections? And why exactly not a half-normal?
Is it because of a phantom power issue and shorting something out? So what then, as I don't fully see which ones, do I connect to do what I want to do in the photo above?
Thanks so much for being patient. Mics should be full-normalled. What patchbay is it what is the model number. Wiring patch bays is a pain. If you can buy prewired if you can't then suffer like we have so many times before. But the info is out there. IF we had a model number, etc we could find the exact wiring diagram for ADC.
So model number and such and we go from there. Use only the proper punchdown tool from ADC. Kludges may work in an emergency but will easily wreck the terminals. Don't ever punch down bare stranded wire, the strands will disintegrate. The shield connections should be covered with a piece of spaghetti tubing before punching down. A package of these is included with every new ADC patchbay.
Thanks for the help. I wired the bay as you suggested before I posted to this board, and it doesn't work. So I am at a loss here. The only solution I can think of is to always patch in the snake to the mic pres.
The normalling just doesn't work. I keep bringing this up because you haven't indicated if you did that or not. It's crucial, especially for phantom-powered mics which simply will not work otherwise. It's unlikely that ALL the normals could be bad, but you already reported having the same problem in several positions. Is the punch panel mounted on the rear of the patchbay, or is it separate?
If connecting the shields as above doesn't work, I guess what I'd probably do at that point would be to pop the lid off and make sure the normals on the jacks are actually wired up to the punch panel. It sounds weird, I know, but as they say: I'm gonna pop the top off this thing and take a look, although I'm not really sure exactly what to look for here.
It sucks if I have to always patch the mics into their respective pres, but it'll work I guess. BTW, the punch panel is on the rear of the bay. I'm not getting that on anything. Problem with pulling the top off now, is that I've half wired the damn thing in, and I can't get it out of the rack to take the top off.
Why would anyone disconnect this functionality inside the box though? Ok, it took pulling the entire bay out to find out exactly what I was doing wrong, and it's really really dumb.
I've never had to wire these TN's and RN's before as my other bays are wired internally and don't have these. So, I thought just connecting them from left to right would work. So, what was happening was I acd cutting the wire off on the top right hand side each and every friggin' time!!
patchbbay
The bay was deep in the rack under 2 other bays, and I just couldn't see properly and I just wasn't thinking. SO, I think this has solved the problem, and I very much appreciate everyone's help on this one. And, I learned quite a few things too, like connecting the shields for phantom, and using that spaghetti stuff on the grounds I used to just arc it up, or solder just the ground, which worked too. I may have made the same mistake the first time I wired up an ADC patchbay.
They were quite different from the "66" blocks I'd worked with before then. The ADC punchdowns are great, though.
ADC Patchbay Wiring Question
Once you're used to them, you'll never want to go back to soldering a patcnbay. Don't make me post it again All of your solder ;atchbay are own by us. There's the reliability of soldered connections but with the convenience of having the connections brought out to a more convenient location.
But that's a sort of old-fashioned arrangement that's rarely seen nowadays. I've soldered up my share of "bare jacks" patchbays, but I ended up terminating the other end with I like to be able to reconfigure connections without yanking the patchbay out of the rack. Usually, the block is separate and connected to the patchbay by a thick umbilical.
Keith has a pic of some ppatchbay work he has done. It's quite a photo: Here's a handy tip: Usually, the cut ends of the wire just fall away harmlessly–but every now and then, one flies right at your face.
Now that you've mastered ADC patchbays, wanna come to Avc York for a few days and help me with this project? This is just one of several jobs I'm trying to tackle during the "holiday slowdown":? Wiring a studio lift all line level grounds at patchbay???? April 15, November 03, December 27, August 08, ,